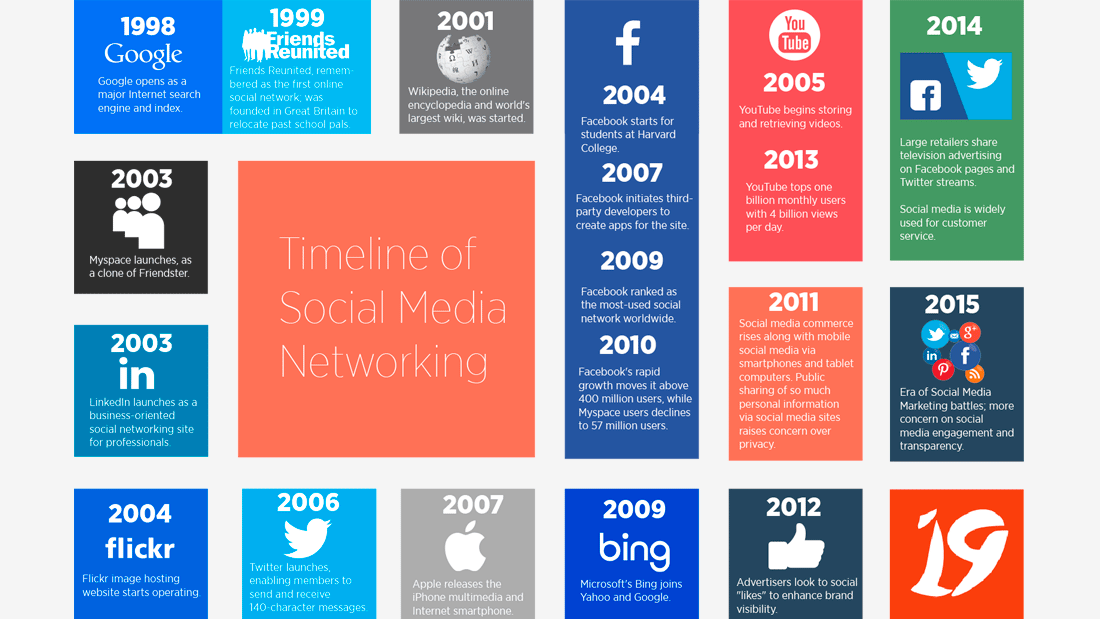 05 Jan

Social Media Timeline

Did you know that the history of social media networking was first introduced in early 90s. There are many conversant social network sites such as Facebook, LinkedIn, Twitter, Google+, YouTube, Pinterest, Instagram, Snapchat, MySpace, Flickr, WordPress, Blogger, Wikipedia, Sound Cloud etc. Take a look at how these social media networking sites have rapidly grown over years with interesting events.


1998
Google opens as a major Internet search engine and index.

1999
Friends Reunited, remembered as the first online social network; was founded in Great Britain to relocate past school pals.

2001
Wikipedia, the online encyclopedia and world's largest wiki, was started.

2003
Myspace launches, as a clone of Friendster. LinkedIn launches as a business-oriented social networking site for professionals.

2004
Facebook starts for students at Harvard College. Flickr image hosting website starts operating.

2005
YouTube begins storing and retrieving videos.

2006
Twitter launches, enabling members to send and receive 140-character messages called tweets.

2007
Facebook initiates third-party developers to create apps for the site. Apple releases the iPhone multimedia and Internet smartphone.

2009
Facebook ranked as the most-used social network worldwide. Microsoft's Bing joins Yahoo and Google.

2010
Facebook's rapid growth moves it above 400 million users, while Myspace users declines to 57 million users.

2011
Social media commerce rises along with mobile social media via smartphones and tablet computers. Public sharing of so much personal information via social media sites raises concern over privacy.

2012
Advertisers look to social "likes" to enhance brand visibility.

2013
YouTube tops one billion monthly users with 4 billion views per day

2014
Large retailers share television advertising on Facebook pages and Twitter streams. Social media is widely used for customer service.